Alpharetta - 4,000 SF Office Building - Near Old Milton Parkway and Southbridge Parkway near Publix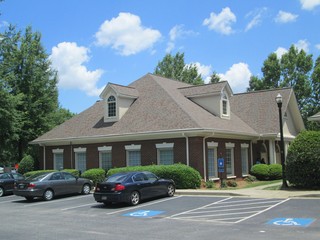 Location:
Alpharetta, GA
* Point your mouse cursor on the picture above to see additional photos. Please look for the arrows and click on the "right" arrow.
Please call 770-241-5658
INVESTMENT HIGHLIGHTS:
• Offered at $799,000
• Single story / free standing 4,000 ± SF office building
• Currently laid out as a single tenant building with sixteen (16) individual offices, lobby/reception area, two (2) restrooms, kitchenette area
• Can be easily divided into two equal size separate office suites (see page #7 of the attached brochure – floor plan)
• Flexible layout
• Ideal for professional service firms
PROPERTY TAXES & OFFICE PARK ASSOCIATION FEES:
Taxes (Fulton County): $4,668.16 per year / Tax Year 2017
Taxes (Alpharetta City) $920.00 per year / Tax Year 2017
Office Park Association Fees $650.00 per month
MARKET HIGHLIGHTS (ALPHARETTA):
• One of the most prosperous communities in the US
• Alpharetta ranked 12th largest city in Georgia
• Outstanding nationally ranked public schools
• Known as the Technology City of the South due to a large concentration of tech-focused companies
• Home to a wide variety of national and internationally recognized companies
LOCATION HIGHLIGHTS:
• Strategic location in Alpharetta
• Highly affluent area
• Signalized entrance/exit to the property
• Easy access to Old Milton Parkway
• Close to State Bridge Road and Kimball Bridge Road
• 2.3 ± miles east of GA400 (Exit #10)
• Located in a core Alpharetta commercial district
• Near GSU Alpharetta Campus, NCR Corporation, and a host of other Fortune 1000 companies
• Publix, Starbucks, FedEx Office, etc... immediately nearby
• Close to numerous shops and entertainment including Avalon
Please call 770-241-5658
All information has been obtained from sources believed reliable and is subject to change without notice. No warranty or representation, expressed or implied, is made as to the accuracy of information contained herein. It is the responsibility of each prospective tenant and/or buyer, or any interested party to independently confirm its accuracy and completeness of any information.
Please call 770-241-5658
Ben Choi
Coldwell Banker Commercial Metro Brokers
#6783204800
11381 Southbridge Parkway
Alpharetta, GA 30022
View Map